ENCOUNTER
Originally commissioned through the Jerwood/Photoworks Awards 2020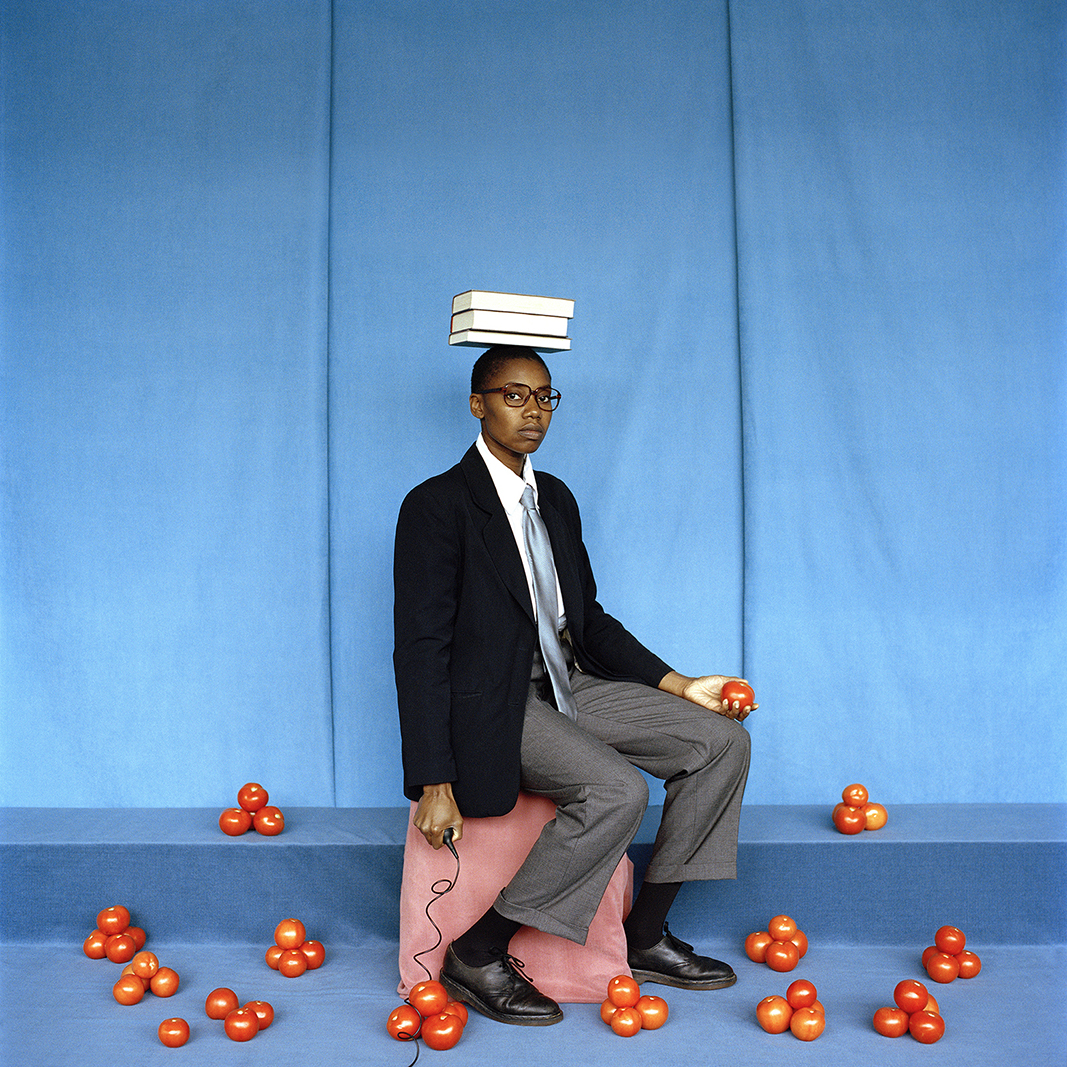 She arrived in Rome in 1989 to reunite with her lover and found a job straight away as baby sitter for a family. One day while she was cleaning their living room, she heard on the radio they were going to pass a law that would legalise every migrant on Italian soil. She was glad she listened to the radio that day..


Self Portrait as My Moter
Encounter (2019)
Giclée print
88.9cm x 88.9cm
ed 5+2AP










My mother and father migrated from Togo to Italy at the end of the 80's, but their relationship didn't survive the journey. Through self portraiture and the use of props, I create a fake representation of my mother, in an attempt engage with her past and understand our history.

The image is multilayered: the studio setting is inspired by West African studio portraiture, the clothes and props
are used to build the identity of the character who finds herself working as a nunny for an Italian family. One day she hears on the radio of the passing of a law that will grant her rights to live in the country. This law is called Legge Martelli. The use of head carrying reference a tradition of market trade within my family and is used as a metaphor for life, were success and struggle exist in an unstable balance.




REFERENCES
- Griffin, John H (1964) Black Like Me
St Albans: Panther Books
- Pitts, Johny (2019) Afropean, Notes from Black Europe. UK: Allen Lane
- Achebe, Chinua (2007) Things Fall Apart
Oxford: Heinemann
- Baldwin, James (1974) If Bale Street Could Talk. New York: Dial Press
- Burton, Johanna (2006) Cindy Sherman. Cambridge (Mass): The MIT Press
- Peffer, J and C, Lynn, E (2013) Portraiture & Photography in Africa. Bloomington: Indiana University Press
- Calle, Sophie (2005) Appointment with Sigmund Freud. London: Thames & Hudson/Violette Editions
- International Labour Office (1980) Women in rural development: Critical Issues Geneva: ILO
- Bell, Clare (1996) In/sight African Photographers, 1940 to the Present New York, Guggenheim Museum


MUSIC
- Oumou Sangaré, (2017) Mogoya. Paris: No Format!
- Fela Kuti, Ginger Baker (1971) Live! London: La Regal
- Zonophone Records Fehdah (2017) Like No Other. Dublin: Hipdrop - records

FILMS
- Sedufia, Peter (2017) Keteke
- Baloji (2019) Zombies
- Ové, Horace (1976) Pressure





Rest at pale evening...
A tall slim tree...
Night coming tenderly
Black like me

from Dream Variation
Langston Hughes


La sconosciuta is an installation composed of photography and video. It was created during Rosi's residency at Thread in Senegal. It narrates an encounter happened during one of her trips to Togo.
"A woman walks on the road that brings to my grandmother's house in Sanguera. She's holding a bag around her arm and she's wearing a simple dressed. All of a sudden she stops walking. She takes off her bag, places it on top of her head and she carries on walking".
The gesture of head carrying assumes relevance and is reproduced in the residency's outdoors studio. The dialogue between photography and video becomes symbiotic. Photography alone allows us to understand the scene but when the video starts playing between the two images, it gives the photograph another value. They don't only narrate a scene, but they become an anticipation of what is going to happen in the video.